Kale Nairn's dedication to the sport of tennis was recognised and celebrated at an impressive event held at the Royal South Yarra Tennis Club on Sunday, August 20th.
Kale was honoured with the title of "Rising Star Tennis Coach of Victoria" by Tennis Coaches Victoria Australia, an accolade reserved for the state's most promising tennis coaches under 30.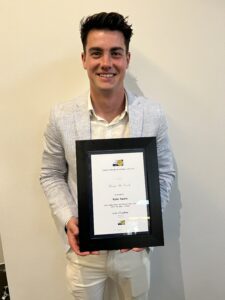 Kale's association with Hume Tennis as one of its most cherished coaches is well-known within the tennis community. His affable nature, combined with his passion and dedication to the sport, has made him one of the most popular coaches at Hume Tennis. 
It's not just his coaching prowess that makes him stand out. Kale's dedication also extends to organising and directing tennis tournaments, that has seen him successfully oversees more than 40 tournaments a year at Hume Tennis.
Accepting the award in front of his coaching peers, the sheer pride and joy in Kale's eyes were palpable. It's always a significant moment when one's hard work and dedication are acknowledged by the very community one serves.
Director of Hume Tennis, Tim Connelly commenting on the award, said, "The recognition of Kale's efforts is well-deserved. His relentless dedication to both coaching and tournaments serves as an inspiration for young coaches looking to make their mark in the tennis industry."
Under Kale's guidance, many budding tennis players are honing their skills and made a name for themselves in the competitive arena. One of his star students, Gavy Dhindsa, stands out as one of Victoria's most promising under-10 players. His growth and achievements under Kale's mentorship underscore the depth of talent and dedication Kale brings to his role.
Kale's journey in tennis, though still in its early stages, promises many more accolades. For now, the Hume Tennis community and all its members celebrate this significant recognition for one of their most popular coaches. 
Congratulations, Kale!