Meet the team
To make a booking with any of the coaches please contact reception at the centre.
Tim Connelly
Tim is the manager of Hume Tennis and Community Centre, a Tennis Australia Club Professional Coach and a United States Professional Level 2 certified coach.
Tim currently sits on the board of Tennis Coaches Victoria, is a Hot Shots Ambassador and previously been a Talent Development and Super 10's Coach with Tennis Australia. He has presented at the Australian Tennis Conference and tennis development workshops.
In 2014 Tim won the prestigious Tennis Australia Award, Newcombe Medal for Hot Shots Excellence (under 12) and in 2015 he won the equivalent award with Tennis Victoria.
Tim is motivated by the positive influence tennis/sport has on a person's life.
"It is a privilege to be involved with such a world class tennis centre and to see so many people enjoy the facility. Our goal at Hume Tennis, is to introduce and develop all ages and levels in the sport of tennis. We work closely with Tennis Victoria and Tennis Australia to make sure all members and visitors have the best experience"
Tim welcomes suggestions on how the centre can continue to be one of Australia's finest. Tim can be contacted via tim@humetennis.com.au
Lawrence Gileno
Lawrence has been coaching for over 10 years with highlights that includes taking players to multiple Australian Opens and being a coaching representative at the World Tennis Coaching Conference, Palm Springs 2017.
Lawrence is the first coach in Australia to coach a Wheelchair Tennis Hub. The Hub is held weekly at Hume and through his work in the Hub was nominated for 2017 Victorian Coach of the Year.
Lawrence loves playing tennis and still competes in the A Grade Mens Competition. His biggest strength is his compeitiveness which he instills into his players.
"I always wanted to be a professional tennis player but when I realised this dream was not to be – I have devoted myself to giving all my players this opportunity. I love working at Hume and look forward to helping all players young and old."
---
Gary Purcell
Gary Purcell
is a professional tennis coach who has been coaching around the world for the past 20 years.
Gary was part of the original Hume Team 2015-2017 and was instrumental in establishing the tennis centre, so it is with great pleasure and excitement we welcome Gary back.
Gary is originally from Ireland and most recently has been working in player development with the International Tennis Federation (throughout the Pacific region). Covid has seen Gary relocate back to Melbourne as travel through the region is restricted.
Gary is a personable, positive and knowledgeable coach and will commence coaching on Thursday evenings.
Daniel Massa
Dan is a dedicated tennis professional who is continually developing his coaching knowledge, recently achieving a Tennis Australia Club Professional qualification.
Dan grew up in Craigieburn where he also played his tennis. He has studied and completed a Diploma in Sport and is also a qualified personal trainer.
Dan coordinates Hume's Tennis Hot Shots and Active Holiday Programs, he also is the Hume Tennis Pro-Shop professional re-stringer and can advise players on the best string that is ideal for different game styles.
"To see kids have their first tennis lesson and then develop into young players is extremely rewarding. I grew up in Craigieburn and have a passion for growing tennis in the region."
Dan really enjoys playing the game and represents Hume Tennis in Mens' and Mixed competitions.
Kale Nairn
Kale is the Tournament Director at Hume Tennis & Community Centre and the upcoming (already arrived) star of the coaching team. His engaging and friendly personality makes him very popular with everyone.
As the Tournament Director he organises and delivers tournaments from Hot Shots through to International Tennis Federation sanctioned tournaments.
As a tennis coach, Kale conducts Hot Shot's group lessons, private coaching and adult tennis lessons.
As a proud millennial, Kale enjoys contributing to Hume's social media pages and is often the person producing videos.
"I love the many roles at Hume and doing all of these means I am always busy. My passion for tennis started when I was young, having played tennis since I can remember. I still play now on a Thursday night for the club and am always looking to get better."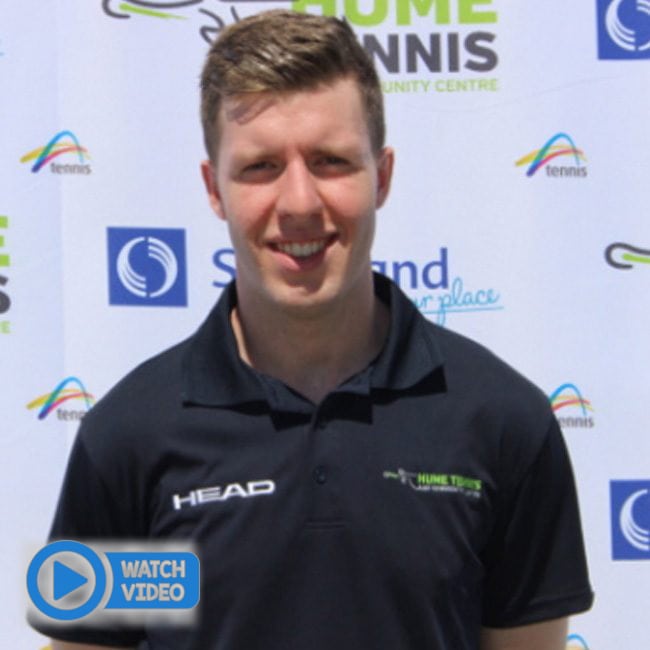 Alex Pupillo
Alex is Hume's friendly Membership and Coaching Coordinator. He is the glue that sticks everything and everyone together. Alex is the person who can help you with any inquiry.
Alex is a local passionate tennis player who grew up in Greenvale and just like the coaches, is working in a sport he loves.
Alex's roles include: maintaining memberships and class enrolments, organising client and coaching accounts, assisting with general enquiries and being the welcoming face at reception.
"I have a passion for working in sport and have recently graduated with a degree in Bachelor of Business (Sports Management). Playing tennis since I was 7 years old, it is now great to be working at Hume in a role that allows me to be involved with tennis."
Alex is here to help members so if you have an inquiry or question then Alex is the best person to speak to.
Oh yes – Alex is a Richmond supporter, so this explains why he is always happy and in a good mood.