Hume Tennis and Community Centre are very proud to announce Tournament Director and Head Tennis Coach Kale Nairn has been named the 'Northern Young Business Achiever' for 2020.
At the age of only 22 years old, he is currently the youngest tournament director in Australia to operate national and international tournaments. After assisting in tournaments from 2015, Kale became the Head of Tournaments at Hume in 2017 and is currently operating 34 tournaments a year for juniors who are newly introduced to tournaments, as well as international events that attract players from all over the world.
Kale is a lifetime Craigieburn resident who spent his childhood playing tennis and is still a passionate competitive tennis player. It is this that motivates him to grow tennis participation and especially, Hume's tournaments. Kale's engaging personality and professionalism endears himself to both players and parents and is a core factor in Hume Tennis to become one of Tennis Australia's major tournament venues.
Kale has been instrumental in the contribution and success in the Stockland Melbourne Wheelchair Tennis Open which sees the world's best men and women international wheelchair players and is the lead-in tournament to the Australian Open.
Kale was instrumental in helping Hume Tennis win Tennis Victoria's and Tennis Australia's "Tournament of the Year 2017" in only his first year as Tournament director, a fantastic achievement that has led him to direct even more prestigious tournaments such as the International Tennis Federation Super Series.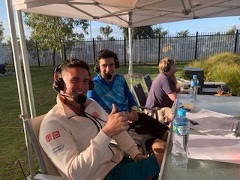 Kale's dedication in the field of tournaments is also seen in his work with Hume Tennis Tours where he travels with Hume's tournament players to different tennis tournaments around Victoria. This allows Kale to experience what other tournaments are doing and to collaborate with other tournament directors.
Kale also managers Craigieburn House which is Hume Tennis's  tournament accommodation for travelling tennis groups, players and their families. Craigieburn House has already hosted players and families from all over the world with the highlight so far of hosting 10 junior Japanese Wheelchair players, coaches and aids staying during the 2020 Melbourne Wheelchair Tennis Open.
Kale was over the moon with his award and said "Being born and raised in Hume, means I have seen how much the area has changed over the years. Who would of though 15 years ago we would have such a world-class tennis centre in Craigieburn. To be able to work in a sport I love  is a great privilege and makes coming to work easy and inspiring."
Tim Connelly, Hume's Director said, "We are so proud of Kale and the dedication he shows in making Hume such a welcoming place. In his role as Tournament Director he deals with many challenging situations  and to be recognised with such an award, at such a young age, is testament to his hard work and dedication. Anyone who has met Kale know what a genuine and authentic young man he is. He is a role model for young tennis professionals entering the tennis industry and what can be achieved."
With the Covid lockdown finishing Kale has been busy putting together a 5-week Junior Tournament schedule through November and December, for juniors to get some competitive tennis before the start of the 2021 tournament's season. The tournament are part of the Melbourne Junior Tennis Pathway Series and will be held on Saturday afternoon – to find out more CLICK HERE.