Hume Tennis and Community Centre (HTCC) has won a prestigious Newcombe Medal for "Australian Tennis Tournament of the Year 2017". The Melbourne Wheelchair Tennis Open was held from January 17th – 21st, 2017. The award was presented to HTTC by Daria Gabrilova at a gala ceremony held at Crown Casino on Monday November 27th, 2017.
"It is such an amazing reward for everyone involved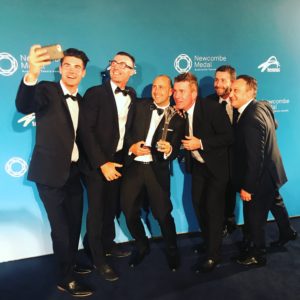 " said current tournament director Kale Nairn. "There is so much that goes into delivering the event, so it is such a great recognition for all the staff and volunteers".
Hume Tennis and Community Centre places a huge emphasis on the off court experience for the spectators and players friends.
A huge 2017/2018 tennis tournament calendar is planned for Hume that cater for all levels and types of players.
With over 30 events planned for 2018 from Hot Shots players through to the professional ranks, Hume really can cater for every type of tennis player. "It is so exciting to have such a diverse tennis tournament calendar and such a wide range of players. To give everybody an idea: we have players as young as five years of age who are playing in their first tournament through to Destinee Aiava who won one of our tournaments and then went onto play the 2017 Australian Open" – Nairn said.
Hume has a full Summer of Tournaments throughout the school holidays, that kicks off with a New Years Eve JT Bronze on December 29th- 31st and then includes two more JT's, two AMT's and the ITF Melbourne Wheelchair Open.
The JDS and MyFirstTournament event start in February and then continue monthly throughout the year.
To view Hume's full tournament list and links to entries please click the link below:
https://humetennis.com.au/competition/tournaments/