Hume Tennis has an extensive range of Head rackets, apparel, footwear and accessories in our Pro Shop which is now available to view online – just in time for Christmas 2020.
Hume Tennis is associated with global brand Head and stocks the widest range of  Head branded clothing such as polo tops, t-shirts, hoodies, tennis skirts and shorts as well as our new puffer jackets to keep you warm over colder months.
We have a full range of rackets for juniors through to the most advanced players and offer a racket gaurentee pricing on all purchases. Head rackets are used by the Number 1 male tennis player Novak Djockovic (Head Speed) and the number 1 female Ash Barty (Head Gravity).
Footwear for men, women and junior sizes are also featured to make sure you have the correct runner to play on all surfaces.
Our Pro shop is affordable and features regular sales of up to 50% off. We understand the need to make sure quality products are within players price range.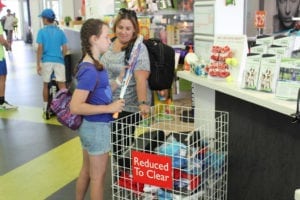 We also stock a full range of accessories that include: over grips, replacement grips, tennis balls, sweat bands, racket dampners and much more. So you can be assured when you come to Hume we can compliment your game at the last minute.
A professional tennis pro shop would not be complete without quality tennis racket stringing. We have two electronic racket stringing machines and a complete range of string for all style of tennis players. We also offer on the spot racket restringing – all we ask is you book your racket in….
Head over to our online Pro Shop now to make sure you get yourself great quality apparel that will make you "head" to the court in style and the confidence you are playing with a quality brand that will help your game.
To visit the Pro Shop and view the wide range of products – go to: https://humetennis.com.au/proshop/ 
NEW HEAD PUFFER JACKET
Our brand-new Head Puffer Jacket and tack pants are now available at Hume Tennis.
This jacket features quality warm and light synthetic down for enhanced thermal protection as well as having a 100% Nylon outer and 100% polyester lining. Perfect to keep you warm this winter!
This durable and great quality jacket is $119 with the sale price of $99 for Hume Tennis and Community Centre members.
Get your jacket now before stock runs out!